Jill K. Robinson
Jill K. Robinson writes about travel, adventure, food, and drink for AFAR, National Geographic Traveler, Travel + Leisure, Outside, the San Francisco Chronicle, Sunset, Sierra, Robb Report, Private Clubs, Virtuoso Life, American Way, Celebrated Living, Rhapsody, Delta Sky, Alaska Airlines' Beyond, Westways, Via, and many more print and digital publications. Her essays have been published in Travelers' Tales books: The Best Travel Writing and The Best Womens' Travel Writing. Her magazine and newspaper articles have won Lowell Thomas, Society of American Travel Writers, and American Society of Journalists and Authors awards. Jill is a Bay Area native, professional athlete, and tequila expert.
A guidebook author shares tips for enjoying the rainbow of attractions, flavors, and summer festivals that make San Francisco a perpetually exciting place to visit.
Hear about travel to San Francisco, California, as the Amateur Traveler talks to Jill Robinson and Kimberley Levato authors of 100 Things to Do in San Francisco Before You Die.
Kimberley Lovato and Jill K. Robinson pen a great guide to San Francisco, everyone's favorite destination in California. They join Paul and Elizabeth for a lively discussion of the book and the city. Even natives will find some things to
Deprecated
: strpos(): Non-string needles will be interpreted as strings in the future. Use an explicit chr() call to preserve the current behavior in
/www/reedypress_787/public/wp-content/plugins/modern-events-calendar-lite/app/skins/grid.php
on line
294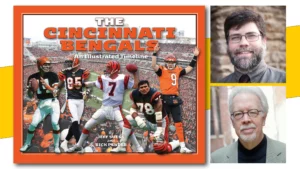 The Bookshelf, 7754 Camargo Rd. #5, Cincinnati, OH 45243
No event found!