Reedy Press was co-founded in 2003 in St. Louis, Missouri, by Josh Stevens and Matthew Heidenry, two museum publishing professionals who sought to help cultural institutions and organizations publish books. In the early years, Reedy's list of clients grew to include schools and cities, with commemorative books soon becoming a specialty. Professionals and companies joined the mix of publishing partners, as titles began to encompass everything from narrative histories to cookbooks to children's picture books.
In recent years, the company has increased the number of titles it publishes traditionally while still partnering with clients on myriad projects.  The current owner, Josh Stevens, sees the balance of traditional and commemorative/custom titles as the key to continued success.
Since its founding in 2003, Reedy Press has released hundreds of books. The list of titles and clients continues to expand.
Where did the "Reedy" come from?
Reedy Press is named for William Marion Reedy (1862–1920), a prolific journalist and literary entrepreneur from St. Louis, Missouri. Reedy started his career as a journalist for the St. Louis Post-Dispatch and the St. Louis Globe–Democrat, and served as an editor of the St. Louis Star.
In 1893, Reedy became the editor of The Mirror, a ground-breaking literary magazine that featured opinions from across the country on political, social, and cultural topics as well as early writings from well-known authors like Carl Sandburg, Robert Frost, and Sara Teasdale. Upon gaining ownership of the magazine in 1896, he changed its name to Reedy's Mirror. He owned and operated Reedy's Mirror until his unexpected passing in 1920.
In one of the few images of Reedy he is pictured with a black trilby hat, which serves as our icon.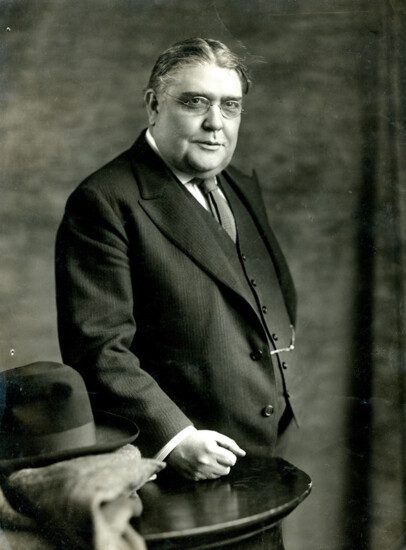 Owner Josh Stevens is a longtime publishing professional. His educational background and professional experience include an MFA from the Iowa Writers' Workshop and work in trade, textbook, and museum publishing.
The accounting department (accounts payable, accounts receivable, and author royalties) is run by Mary Beth. She received her BS in mathematics from Bradley University. She grew up working as the 5th generation in their family's business and continues the tradition today working alongside her husband, Josh, since Reedy's founding in 2003.
Following a BA from Boston College, Barbara held editorial, design, and production management positions with publishers including Simon & Schuster and Harcourt Brace, in addition to work for universities and corporations. Barbara has been with Reedy Press since 2014.
With a background in administration, Jenna joined Reedy Press in May 2022 after several years in the wine and spirits industry. She now oversees Reedy's warehouse, distribution, and order fulfillment.
Production Assistant + Website Manager
Claire graduated from Fontbonne University in 2020 with a BA in Professional Writing. She assists Barbara with production, leads marketing design, and manages the Reedy Press website. Claire has been with Reedy since 2015.
Amanda E. Doyle experienced all the questions and difficulties any author could in the process of writing and promoting her (so far) 6 books with Reedy Press; she puts that experience to use as the Author Liaison, connecting far-flung authors with the resources of Reedy's office staff, and with each other as a wide network of colleagues and cheerleaders. Amanda officially joined the Reedy team in 2021.
Alex graduated from Truman State University in 2020 with a BA in English and Communication, and he's been at Reedy Press since 2022. He is Reedy's media coordinator — helping authors secure appearances to promote their books. Alex is also an award-winning film critic and a member of the St. Louis Film Critics Association. His favorite film is Hot Fuzz.
Sales Associate + Event Coordinator
Kaitlyn graduated from Webster University with a BA in Advertising and Marketing Communications as well as an MA in Communications Management. Kaitlyn joined the Reedy team in 2022, and serves as event coordinator and sales associate.
After working for 20+ years at a major chemical/pharmaceutical company, Don Korte joined Reedy Press in 2009. He has worked in a variety of capacities, including production, sales, and distribution.
This form is for general inquiries. If you have a book idea or proposal, please visit the Become an Author page and fill out the more detailed form, there.