Jessica Mlinaric
Jessica Mlinaric is a writer, photographer, and marketer based in Chicago. Her work covering culture and travel has appeared in Condé Nast Traveler, GQ, The Architect's Newspaper, Chicagoist, and more. Jessica founded urbnexplorer.com in 2010 to share stories about cities and their cultures. When she's not writing, you can find her at a loud concert, unusual museum, or neighborhood tavern.
Jessica Mlinaric is no stranger to a good scavenger hunt. Her childhood homemade maps behind her grandmother's house led her to explore Chicago much differently than simply finding the closest grocery when she first moved here. Mlinariic has spent over
From America's greenest restaurant to the tallest church building in the world, to the site of the first International Special Olympics Games, Chicago-based writer and photographer, Jessica Mlinaric, invites Chicagoans and tourists alike to explore the city through its hidden
Writer and photographer Jessica Mlinaric wants Chicagoans back on the streets.  
Deprecated
: strpos(): Non-string needles will be interpreted as strings in the future. Use an explicit chr() call to preserve the current behavior in
/www/reedypress_787/public/wp-content/plugins/modern-events-calendar-lite/app/skins/grid.php
on line
294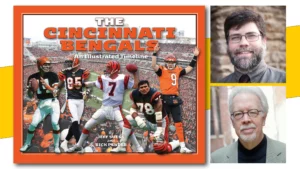 The Bookshelf, 7754 Camargo Rd. #5, Cincinnati, OH 45243
No event found!