Kim Schneider
Travel writer and Traverse City area resident Kim Schneider has long covered various parts of the country and the world as a staff and freelance travel writer, but she's experienced Traverse City as both home base and vacation spot. Always, her True North draws her back to her favorite subject and corner of the earth.
Sit down with travel writer Kim Schneider and you quickly realize her years of writing thousands of articles about the attractions of Traverse City and the surrounding area have made her an expert on the topic. As Kim explains, "You
#1. 100 Things to Do in Traverse City Before You Die: It was no surprise when we found this book at the top of the year's bestseller list.  The launch event in April featured so many of the businesses and
Deprecated
: strpos(): Non-string needles will be interpreted as strings in the future. Use an explicit chr() call to preserve the current behavior in
/www/reedypress_787/public/wp-content/plugins/modern-events-calendar-lite/app/skins/grid.php
on line
294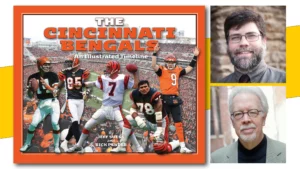 The Bookshelf, 7754 Camargo Rd. #5, Cincinnati, OH 45243
No event found!