Nancy Hamilton
Nancy Hamilton grew up exploring the shorelines of Michigan before she traded one sandy shore for another and moved to the Fort Myers area of Florida. A Michigan State University journalism school graduate, she was lured to Florida by a job at the Naples Daily News. Currently, she works in the field of public relations and continues to find new and wonderful discoveries in her own backyard. Contact her at
[email protected]
Nancy Hamilton, author of 100 Things to Do in Fort Myers & Sanibel Before You Die, said she used her experience with the Visitor & Convention Bureau for 25 years and her overall knowledge of the area to give readers
Author Nancy Hamilton will take part in a book talk for 100 Things to Do in Fort Myers & Sanibel Before You Die on Feb. 26 at 2 p.m.
Deprecated
: strpos(): Non-string needles will be interpreted as strings in the future. Use an explicit chr() call to preserve the current behavior in
/www/reedypress_787/public/wp-content/plugins/modern-events-calendar-lite/app/skins/grid.php
on line
294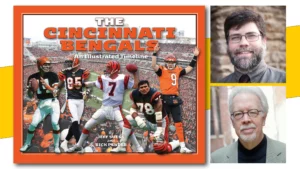 The Bookshelf, 7754 Camargo Rd. #5, Cincinnati, OH 45243
No event found!