Sarah Parisi
Sarah Parisi has lived in Chicago most of her life and has the parallel parking skills to prove it. Although she's always loved the city, she didn't fully appreciate it until she began exploring with her kids. In between caring for her three rambunctious boys with the help of her devoted husband, Sarah created ToddlingAroundChicagoland.com to share some of their experiences and hopes to encourage every family to discover all that Chicago and the surrounding areas have to offer. Sarah is on Twitter and Instagram @ToddlingChicago.
Sorry, no posts matched your criteria.
Deprecated
: strpos(): Non-string needles will be interpreted as strings in the future. Use an explicit chr() call to preserve the current behavior in
/www/reedypress_787/public/wp-content/plugins/modern-events-calendar-lite/app/skins/grid.php
on line
294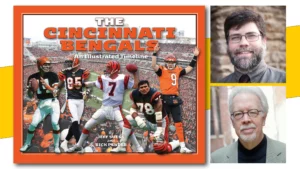 The Bookshelf, 7754 Camargo Rd. #5, Cincinnati, OH 45243
No event found!