Patrick McCarthy
Patrick McCarthy has worked with the large Bosnian community in St. Louis for the past twenty years. He is a co-author of After the Fall: Srebrenica Survivors in St. Louis. McCarthy is associate dean of libraries at St. Louis University.
Ethnic St. Louis traces the St. Louis roots of 59 ethnic groups, from the founding French Creoles to the refugees from today's turmoil in places like the Middle East.
The authors of Ethnic St. Louis discuss their book that traces all the various immigrant communities that have made St. Louis the city it is today.
St. Louis has a long history as a melting pot of different cultures and a new, photo-illustrated book, Ethnic St. Louis, is striving to do justice to the various immigrant communities that have made their home here.
Deprecated
: strpos(): Non-string needles will be interpreted as strings in the future. Use an explicit chr() call to preserve the current behavior in
/www/reedypress_787/public/wp-content/plugins/modern-events-calendar-lite/app/skins/grid.php
on line
294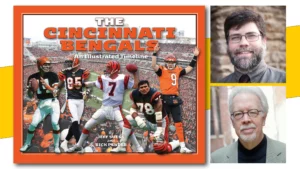 The Bookshelf, 7754 Camargo Rd. #5, Cincinnati, OH 45243
No event found!