Matt Kirouac
Matt Kirouac is a Chicago-based food, beverage and travel writer and editor. After graduating culinary school, he took his education in a different direction and expanded upon it, writing for companies like Daily Candy, Kimpton Hotels, Time Out, Food Fanatics magazine, Brand USA and numerous others. Currently, he works for Zagat, Plate and other freelance positions.
Chicago food writer Matt Kirouac talks about the most unique eats the city has to offer in his new book Unique Eats and Eateries of Chicago that hits bookstores tomorrow.
Deprecated
: strpos(): Non-string needles will be interpreted as strings in the future. Use an explicit chr() call to preserve the current behavior in
/www/reedypress_787/public/wp-content/plugins/modern-events-calendar-lite/app/skins/grid.php
on line
294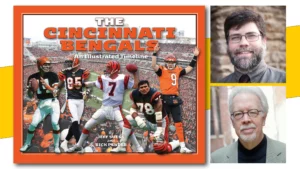 The Bookshelf, 7754 Camargo Rd. #5, Cincinnati, OH 45243
No event found!