Valerie Battle Kienzle
Valerie Battle Kienzle is a native of Nashville, Tennessee. She is a graduate of the University of Missouri's School of Journalism in Columbia, Missouri. She spent the last thirty-five years employed in various writing-related positions–newspaper reporter, corporate public affairs manager, advertising account representative, school district communications writer, freelance writer and author. She has written two books for Arcadia Publishing: St. Charles (2012) and Columbia (2014); and one book for Reedy Press: What's With St. Louis? (2016). Valerie is a member of the Missouri Writers Guild, the Society of Children's Book Writers & Illustrators (SCBWI), the State Historical Society of Missouri and the St. Charles (MO) County Historical Society. Her interests include reading (history, non-fiction), music (all genres), gardening, travel and genealogical research. An animal lover, she and her husband share their St. Louis-area home with a dog and a cat.
For five years, Valerie Battle Kienzle has been stitching together the history of St. Louis' once-thriving textile clothing and footwear industry.
This coffee-table book filled with photos details St. Louis' glory days as a center of both shoe and garment companies; in 1924, it had 161 clothing firms. As a fur-trading hub, the city had outfitted customers for years, and straw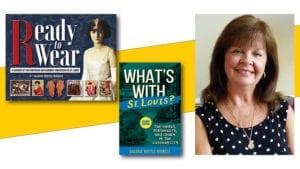 Jefferson County Library - Northwest, 5680 SSR-PP, High Ridge, MO 63049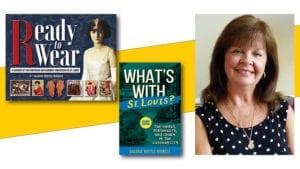 Cliff View County Library, 10 Cliff View Dr., Wentzville, MO 63385
Spencer Road Library/St. Charles County Library District Headquarters, Spencer Road Library/St. Charles County Library District Headquarters, 77 Boone Hills Drive, St. Peters, MO  63376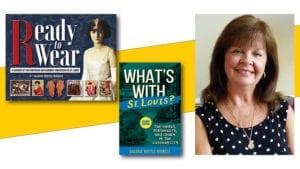 Green Briar Hills Country Club, 12665 Big Bend Blvd., Kirkwood, MO 63122
No event found!