Bill Hart
Bill Hart is a fifth generation Missouri native, having grown up in Perry County in southeast Missouri. His interest in small town and roadside Missouri was fostered by his work for the past several years with the Missouri Alliance for Historic Preservation (Missouri Preservation), where he currently serves as Executive Director. He holds a degree in Historic Preservation from Southeast Missouri State University and did his graduate coursework in Architectural History at the Savannah College of Art and Design in Georgia. Bill is particularly interested in vanishing Missouri building types, including roadside and countryside. He was one of the founders of the Missouri Barn Alliance and Rural Network (Mo BARN), advocating for documentation and preservation of Missouri's historic farmsteads.
Missouri's bicentennial is two months away, so The Examiner sat down with Audrey Elder, who runs an Independence business focused on preservation. Our conversation was about some of the better books on Missouri history and touched on Truman, Twain, baseball, the
From French colonial architecture in Ste. Genevieve and "levee-high pie" in Kimmswick to Civil War history in Bonnots Mill, Missouri is home to plenty of fascinating travel destinations –many of them off the beaten path. Bill Hart gives readers a
Deprecated
: strpos(): Non-string needles will be interpreted as strings in the future. Use an explicit chr() call to preserve the current behavior in
/www/reedypress_787/public/wp-content/plugins/modern-events-calendar-lite/app/skins/grid.php
on line
294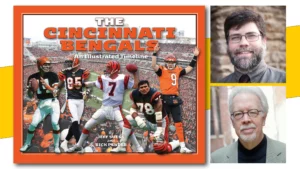 The Bookshelf, 7754 Camargo Rd. #5, Cincinnati, OH 45243
No event found!