Joshua Ginsberg
Joshua Ginsberg is a writer, entrepreneur, and curiosity seeker who, in 2016, decided with his wife to trade in the frigid winters of the Midwest for the year-round sunshine of Tampa Bay. He has had numerous published works of poetry, fiction, and non-fiction, and has been a business proposal writer and professional resume writer for over 10 years. He has also had a hand in launching multiple startups including the web-based art leasing business which he owned and operated in Chicago. He currently lives in Tampa's Town and Country neighborhood with his wife, Jen, and their Shih Tzu, Tinker Bell.
A janitor, an heiress and a theater manager are among the real histories on the Jolley Trolley's Haunted Clearwater tour.
Do you believe in ghosts? Many people do! If you're into all things creepy and spooky, this spectacularly spectral tour could be right up your alley. You'll be taken to a number of locations where spirits have been sighted.
Tampa Bay Scavenger is 192 pages, out now via St, Louis, Missouri's Reedy Press, and it's not exactly casual weekend walking tour material. Using more than 350 rhyming riddles, Ginsberg—who was inspired by author Misha Collins' "Greatest International Scavenger Hunt"
Deprecated
: strpos(): Non-string needles will be interpreted as strings in the future. Use an explicit chr() call to preserve the current behavior in
/www/reedypress_787/public/wp-content/plugins/modern-events-calendar-lite/app/skins/grid.php
on line
294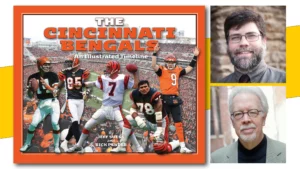 The Bookshelf, 7754 Camargo Rd. #5, Cincinnati, OH 45243
No event found!