Teresa Bergen
Teresa Bergen is always looking for a new easy outdoor adventure. She writes about travel, health and fitness from her home in Portland, Oregon. Her favorite outdoor activities are kayaking, hiking, snowshoeing, stand-up paddle boarding and yoga. She enjoys exploring the Pacific Northwest with her husband and Rudy the Keeshond, world's cutest dog.
Get outdoors for a little fun this holiday season! Teresa Bergen, author of Easy Portland Outdoors, joined us to share some great activities for holiday adventures in, around and near the Rose City!
From a Bigfoot cruise to the Big Float, Teresa Bergen—author of Easy Portland Outdoors—joined us to share some great idea for summer adventures in the Rose City!
A book called Easy Portland Outdoors is filled with adventures here in the city and up on the mountain. Author Teresa Bergen shares some of her top picks.
Deprecated
: strpos(): Non-string needles will be interpreted as strings in the future. Use an explicit chr() call to preserve the current behavior in
/www/reedypress_787/public/wp-content/plugins/modern-events-calendar-lite/app/skins/grid.php
on line
294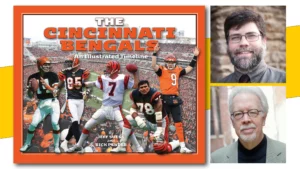 The Bookshelf, 7754 Camargo Rd. #5, Cincinnati, OH 45243
No event found!